Project Profiles
The successful project manager know's his team's gameplan as well as the strategy behind its design...
Dupont Experimental Station Cooling Tower Replacement Project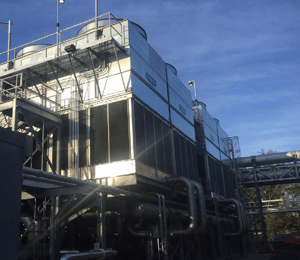 The DuPont Experimental Station operates a 15,000-ton refrigeration plant which requires the use of two large cooling towers. DuPont initiated a replacement project for one of the cooling towers which was erected in 1956. This wood frame structure produced 6,000 tons of condenser cooling water. The new 10,000-ton replacement tower was required to have more operational capacity and versatility along with higher efficiency. DuPont required a firm eight-month field construction window to return the needed condenser water capacity back to the site. This short duration timing for a project of this magnitude was complicated by the fact that the selected siting location was in the same footprint as the existing cooling tower. This very tight construction window required the creation of an innovative design approach, as the planned field construction timeline was determined to be fifteen months.

The design team was led by Pennoni Associates and included Energy Transfer Solutions, M Davis Industrial Contractor and Fabricator (M Davis), and Applied Controls Engineering (ACE). This team was elected to design and engineer the entire structure and all associated piping and electrical systems as a series of individual modular skids so that it could be completely fabricated, assembled and tested in an off-site facility, then dis-assembled and re-assembled and interconnected at the client's site to meet this aggressive completion schedule.
To read the full Project Spotlight, Click Here
---
Historic Building: Palmer Seminary Apartments LG VRF System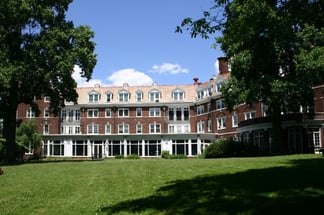 The former Palmer Theological Seminary in Wynnewood, PA has taken a very modern turn, joining the 21st century in style. After 73 years of religious studies classes and dormitories through affiliation with the Eastern University in St. David's, the property was sold to Cross Properties for development into luxury apartments in 2011.
This project has experienced many challenges in order to maintain its historical integrity. One of the challenges this renovation project experienced was finding a way to heat and cool the building effectively. The building did not have room for larger systems involving heavy rooftop equipment, nor could it withstand having significant penetrations cut into the ex­terior. A solution requiring less space and smaller outdoor condensers was considered. The teams involved in renovating the building decided the best and most efficient system was VRF.
Products Used: LG Variable Refrigerant Flow (VRF) System - Multi V IV
Results: LG VRF was chosen for use in the building which would ultimately house 110 apartments and would aid in preserving the guidelines put in place by the Lower Merion Historical Pres­ervation Ordinance. In order to complete this project and properly service the entire build­ing, 12 LG Multi-V Heat Recovery Systems were used. A horizontal ducted unit was installed in each apartment for maintaining a traditional centralized system look while allowing for optimal zone control. This design would protect the building's original historical integrity while allowing the building owner to realize construction and operational cost savings in comparison to other HVAC systems. Having chosen LG products for this project, the owner was able to save in construction costs by cutting nearly 10,000 feet of piping with LG's par­allel/series piping design opposed to the competitor's VRF system design.
The owners are pleased with LG VRF as their HVAC system as it is more efficient than other proposed designs and offers true heat recovery. This LG system is best suited for diverse loads that require simultaneous heating and cooling in different zones keeping future ten­ants satisfied regardless of their temperature requirements.
---
Christiana Care Bone Marrow Air Handling Unit Replacement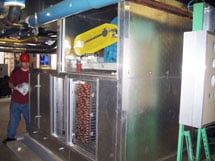 In the penthouse, two existing air handling units are located in an area that is not conducive for conventional replacement. The access to the units is extremely difficult. The existing units were dismantled and the new units were installed panel by panel.
Products Used: Air Enterprises SiteBilt Units
Results: As one of the existing units was operational for the critical environment, the second air handling unit was removed. The Air Enterprises/subcontractor Sitebilt team erected the unit in the penthouse panel by panel. Each piece was installed with the same quality of a factory constructed unit. Both units were installed within the required schedule and the Bone Marrow Critical Area was never disrupted during construction.
---
Ammunition Manufacturing Facility Vintage Cooling Tower Replacement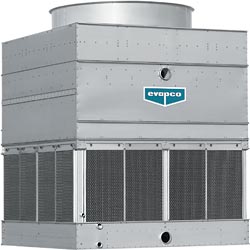 A 1974 vintage cooling tower needed to be replaced. ETSI teamed up with the contractor to design a solution that would fit the existing footprint and increase capacity.
Products Used: Evapco USS Cooling Tower
Results: Capacity was increased by 20 percent and the cooling tower was designed to fit the existing footprint of the previous cooler.
---
Philadelphia Naval Yard Closed Circuit Cooler Coil Casing Replacement
The cooler provided cooling for the foundry ovens. The existing competitor coils had failed and required replacement prior to the next process requiring the ovens.
Products Used: Evapco Coil Casing Section
Results: Evapco designed and fabricated a custom casing section to fit the existing basin section and pipe connections. The work occurred in a two day duration meeting the customer's schedule as well as the existing cooler capacity.