Energy Transfer Solutions is pleased to announce the addition of Quantech air-cooled chillers to our product offerings.

Quantech is the fast, efficient and dependable answer to critical replacement chiller needs.


Available in 15- to 210-ton capacities.
Delivered from inventory in two to five business days.
---
Quantech: a new name, but not a new chiller manufacturer. Manufactured by Johnson Controls, providing a track record of exceptional reliability, the result of over 140 years of engineering excellence.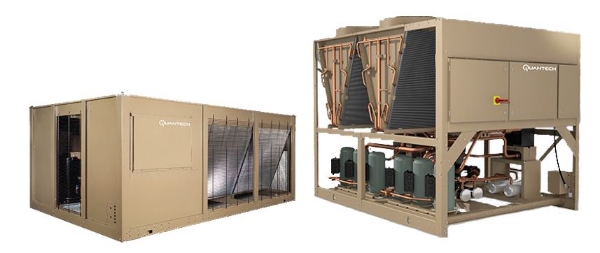 Quantech offers Air-Cooled Scroll Compressor Chillers in QTC2 (15-50TR) and QTC3 (55-175TR) with standard:
Scroll compressors - reliable, proven design & two part independent circuits for partial redundancy
Heat exchangers - high efficiency brazed plate evaporators, advance microchannel condensers
Fast installation and commissioning with native communications protocols
Meets or exceeds ASHRAE 90.1-2013 standards
18-50% annual energy cost savings over comparable chillers
Manufactured by JCI
Stock availability updates HOURLY from Quantech factory
Delivery within 2-5 business days of order
---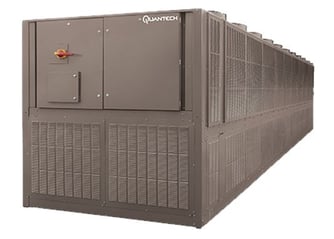 Also available QTC4 160-210TR Air-Cooled Variable Speed Drive Screw Chillers:
Hybrid falling film type evaporators for optimal efficiency and refrigerant charge
25-50% annual energy cost savings over comparable chillers
Micro-channel type condenser for maximum heat transfer and minimum refrigerant charge
Variable primary flow (VPF) system to reduce the chilled liquid flow to match the building demand
Manufactured by JCI
Built-to-order and delivered in 8-10 weeks

To learn more about Quantech chillers or how to incorporate this fast, efficient and dependable solution into your next project, please contact your Energy Transfer Solutions Sales Engineer, call 610-444-0333, or complete the below form.
Complete this form to be contacted with more information on Quantech air cooled chillers: