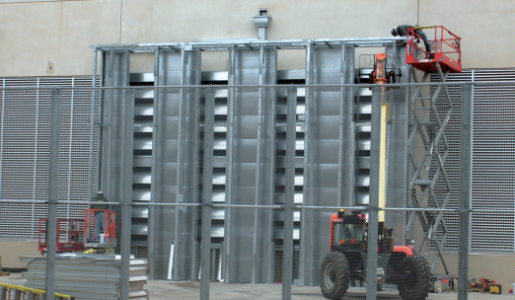 A data center of a major global payments company is a 370,000 square foot building that processes millions of electronic transactions from around the world. The 22 generator sets of 2.5 megawatts each are designed to work simultaneously, if necessary, to provide a total of 55 megawatts of backup power to run the data center.
All silencers were omitted from the building at the design stage, leading to a noise control disaster. Without a noise control solution in place, sound levels created by the generator system reached 83 dBA at the property line, violating the county's noise regulations of a maximum of 62 dBA.
How did Vibro-Acoustics come to solve the problem?
When it comes to data center generators, it is important to have a noise control solution in place. Vibro-Acoustics, a manufacturer represented by Energy Transfer Solutions, can develop a specific solution for your project that satisfies all sound and pressure drop requirements. Because Vibro-Acoustics can achieve such a low pressure drop, any concerns over reduction in generator capacity can be put to rest. Would you like to know what solutions would be provided for your project? With Vibro-Acoustics free lay-in service, all they need is a submission of your drawings/plans to determine the best solution to meet your needs. Contact your Sales Engineer to learn more.