HVAC Service For Your Business Applications In Delaware, Pennsylvania & New Jersey
General Services
Evapco Mr. GoodTower Services
Energy Transfer Solutions' Service Team offers: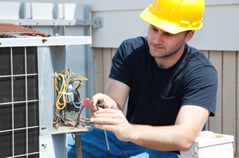 General Services
Energy Transfer Solutions is a qualified provider of all HVAC services covering diagnostics, repairs, maintenance, replacements and start-ups.
Our service department is experienced in working on all makes and models of HVAC equipment, no matter the manufacturer of the equipment.
From free cooling tower inspections to VRF system start-ups to boiler service and repairs, the Service Department at Energy Transfer Solutions is prepared for it all. For general service needs or emergency service, call 610-444-0333 for prompt service
Evapco Mr. GoodTower Services
Energy Transfer Solutions is an authorized Mr. GoodTower Service Center, specializing in the service and repair of evaporative cooling equipment.
Mr. GoodTower service centers repair all brands of towers (Evapco, Baltimore Air Coil (BAC), Marley, Recold, IMECO and more). The Mr. GoodTower Service Center at Energy Transfer Solutions offers:
Free unit inspections
Refurbishment and repairs on existing towers
Complete maintenance and cleaning of all towers
Installation of Evapliner basin coatings
Maintenance Contracts
Maintenance contracts for your HVAC equipment can ensure your equipment runs with optimum performance. Routine maintenance can reduce operating costs, eliminate unscheduled equipment down time, and protect you from costly and aggrevating emergency repairs.
Energy Transfer Solutions offers customized contracts to fit your budget and equipment requirements, and can offer on-site HVAC support to supplement your existing staff. Maintenance contracts can cover all HVAC equipment including:
Rooftop units
Water Source Heat Pumps
Cooling towers
Chillers
Variable Frequency Drives
Boilers and pumps
and more...
Equipment Startup
Energy Transfer Solutions specializes in equipment start-ups, including:
Certified LG start-ups
Certified Evapco "Mr. GoodTower" Cooling Tower/Closed Circuit Cooler Start-ups
Certified Multistack chiller start-ups
Certified Seasons*4 custom packaged rooftop system start-ups
Start-up of all equipment represented by ETS
Warranty Work
The Energy Transfer Solutions service team is made up of factory trained technicians who perform parts and labor warranty work on ETS represented equipment.
With direct factory contacts, ETS technicians are able to expeditiously diagnose and repair equipment. For companies not specializing in HVAC service, ETS can provide technicians to provide warranty service as needed.
Energy Savings Programs
Energy Savings Programs offered by Energy Transfer Solutions consist of:
Energy Analysis of HVAC systems
Energy Management - scheduling and controlling HVAC equipment
Performance optimization through control systems
System sustainability combining first cost, maintenance cost, life cycle and equipment efficiency
Automatic Temperature Controls (ATC) Engineering & Design
Energy Transfer Solutions is a certified Honeywell Automation & Controls Solutions (ACS) provider. The ETS controls department engineers and designs complete Building Automation Systems.
Additionally, ETS provides Tek-Air laboratory and fume hood controls and Accutrol airflow technologies for critical environment airflow control.