---
Dirty Cooling Towers Can Be Breeding Grounds for Legionella
LAKOS Continuous Cleaning Provides Safety & Peace of Mind

The Risks:
Improperly maintained cooling towers can be a breeding ground for bacteria, viruses and other pathogens, including Legionella. Buildup of bio-solids in basins provides a warm, moist habitat that can quickly spread disease.

Recent Legionella outbreaks have been directly tied to poorly-maintained cooilng towers.

Missed cleanings, long intervals between cleanings and other maintenance gaps can create opportunities for pathogens to spread, even when management believe proper maintenance is being done.
The Solution:
Installation of a continuous tower cleaning system from LAKOS together with water treatment provides greatest protection from solids build-up and the formation of habitats for dangerous pathogens.
How It Works:
The LAKOS tower cleaning system automatically prevents under-deposit corrosion and biological growth through continuously cleaning. It prevents unwanted build-up, helping to stop legionella growth and other unwanted particulates. The system uses HydroBooster nozzles that sweep contaminants to the LAKOS eTCX system where they are collected and removed.
The experts agree (ASHRAE guideline 12 & 188) cooling tower filtration is recommended to prevent Legionella.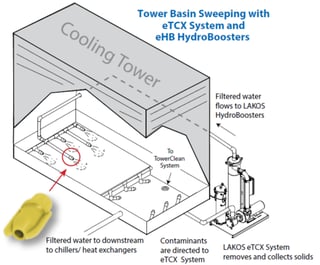 System Benefits:
Prevent potential risks to customers and employees from cooling tower pathogens

Reduces basin maintenance costs by 60-90%

Reduces energy consumption by 10% or more by maintaining thermal efficiency of heat transfer surfaces (removing scale and build-up)

Provides reduced liability and increased safety for maintenance staff by reducing hand cleaning
For additional information on LAKOS or to determine which continuous cleaning system is best for your equipment, contact your Energy Transfer Solutions Sales Engineer.