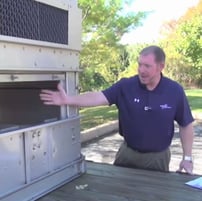 The Evapco ESWB Closed Circuit Cooler has come to town on a traveling trailer, and Energy Transfer Solutions Sales Engineer, Jason Roebke, is here to give you a virtual tour.

If you're interested in more information on Evapco's Cooling Tower & Closed Circuit Cooler product lines or would like to arrange an appointment to see the ESWB trailer in person, call us! We'll bring it to you!
Check out the video below:
Transcript:
I'm Jason from Energy Transfer Solutions. In the Pennsylvania, New Jersey, and Delaware markets, Energy Transfer Solutions is known as an industry leader in providing industrial and commercial HVAC equipment, controls, and services. Today I'm here to highlight one of our premier manufacturer's, Evapco, who is known in te industry as the innovation leader in evaporative cooling, closed circuit coolers, and cooling towers.
Behind me is the ESWB closed circuit cooler, which is Evapco's latest innovation which stands alone as the industry's quietest and most efficient closed circuit cooler on the market. The EWSB is able to achieve this superior performance using its full footprint patented Sensi-Coil® Technology. The Sensi-Coil® now features CrossCool™ Internal Tube Enhancement which increases the internal heat transfer coefficient of the coil and thus increases the cooling capacity of the unit. The patented EVAPAK Fill is especially designed to induce highly turbulent mixing of the air and water for superior heat transfer. The fill pack is constructed of Polyvinyl Chloride (PVC) sheets which are thermally formed into a cross flute design. The individual fill sheets are bonded together to form rigid blocks. The fill blocks are then stacked within the unit's protective casing and can be used as a maintenance platform.
The cooling coil of the ESWB is located out of the airstream, within the basin, which allows for higher energy efficiency, lower heat loss, and better maintenance access. The fan motor is easily accessible, with a swing out door, for access to the fan motor and belt tensioning. Evapco's innovative air inlet louvers are both water and sight tight to ensure that water stays in, and debris stays out. The sight tight design also inhibits algae growth. Low sound fan options include the super low sound fan, which allows for a 9-15 dBA reduction.
The Evapco ESWB comes available with many value added accessories including stainless steel basins, stainless steel upper construction, external ladders and platforms, motor davits, electronic water level control, and many others. Another valuable option for the ESWB closed circuit cooler is Evapco's non chemical water treatment system, the Pulse Pure. Pulse Pure uses electronic pulse to eliminate biological growth and calcium build up.
Thank you for watching our video today. To learn more on the ESWB or any of Evapco's other innovative products, please visit www.energytransfersolutions.com or contact any of your local Energy Transfer Solutions sales representatives.