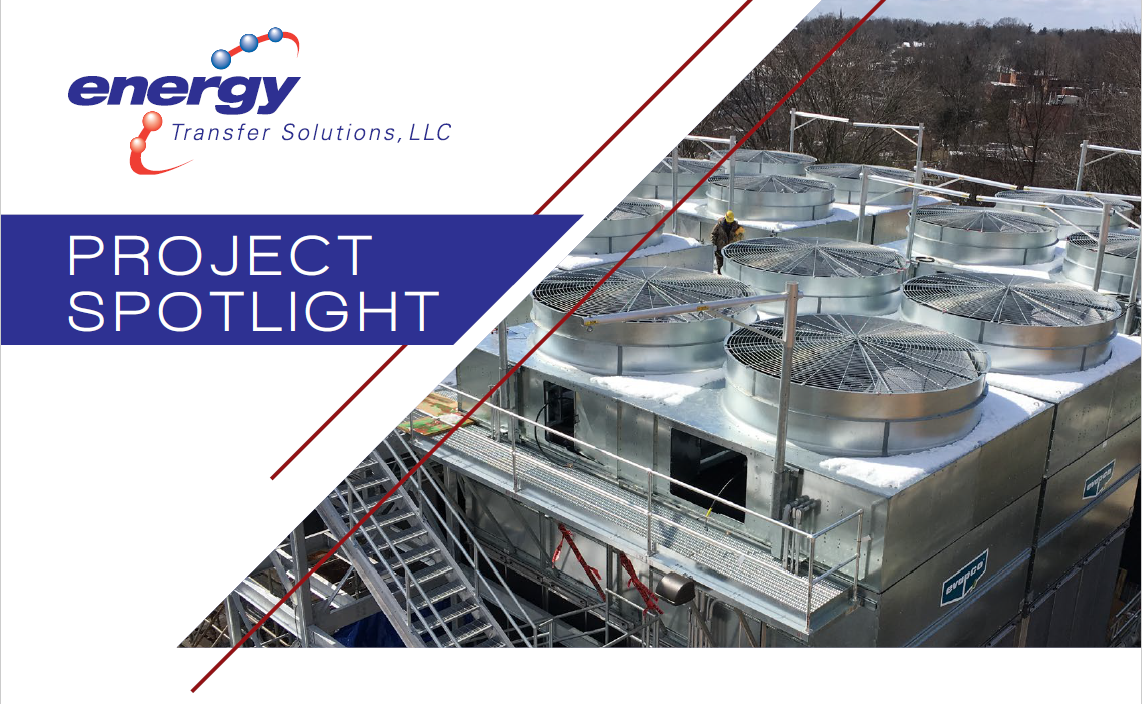 DuPont Experimental Station Replacement Project
Replacing a 63-year old 6,000-ton field erected cooling tower with a new modular 10,000-ton cooling tower and condenser water system. Project completed in only 8 months.
The DuPont Experimental Station operates a 15,000-ton refrigeration plant which requires the use of two large cooling towers. DuPont initiated a replacement project for one of the cooling towers which was erected in 1956. This wood frame structure produced 6,000 tons of condenser cooling water. The new 10,000-ton replacement tower was required to have more operational capacity and versatility along with higher efficiency. DuPont required a firm eight-month field construction window to return the needed condenser water capacity back to the site. This short duration timing for a project of this magnitude was complicated by the fact that the selected siting location was in the same footprint as the existing cooling tower. This very tight construction window required the creation of an innovative design approach, as the planned field construction timeline was determined to be fifteen months.
The design team was led by Pennoni Associates and included Energy Transfer Solutions, M Davis Industrial Contractor and Fabricator (M Davis), and Applied Controls Engineering (ACE). This team was elected to design and engineer the entire structure and all associated piping and electrical systems as a series of individual modular skids so that it could be completely fabricated, assembled and tested in an off-site facility, then dis-assembled and re-assembled and interconnected at the client's site to meet this aggressive completion schedule.
ROLE OF THE ENTRANT'S FIRM
Pennoni provided preliminary engineering and final design for all mechanical, electrical and structural aspects of this project. The critical design parameter for the modular skids was adherence to specified weight and dimensional criteria. Using Revit software, the design team developed and coordinated the individual modular skid designs to conform to the required weight and dimensional parameters needed for over-the-road transportation and the lifting and maneuvering of each skid into place at the client's facility. In conjunction, the design also had to accommodate the placement of the needed equipment, piping and supports which included (4) - 400 hp pumps and piping up to 36 inches in diameter. Due to the large sizes of the various system components, access and clearance criteria for maintenance and operations activities had to be included in the design. In addition, Pennoni provided construction phase services which included shop drawing review, response to Contractor Requests for Information (RFIs), construction progress meetings, pipe testing oversight and start-up and commissioning of the new cooling tower and auxiliary equipment.
ROLES OF OTHER PARTICIPATING CONSULTANTS
With the extensive skid fabrication capabilities of M Davis, the modular units were completely fabricated and assembled inside of one of their nearby facilities. The in-shop fabrication commenced in June 2017, three months ahead of the scheduled existing tower demolition. Since this process was being executed off-site, it enabled coincident field activities including demolition, civil, geo-tech and structural to occur over the next four months, thereby greatly reducing the overall field construction window. The in-shop fabrication process not only reduced the field construction schedule due to its advanced start time, it also allowed M Davis to utilize shop fabrication and automated welding techniques that would not be able to be employed in a field erection environment which greatly expedited fabrication time. The first skid arrived at the job site in mid-January 2018. To facilitate and expedite skid placement, M Davis used air skids to simply "push" the up to 48,000-pound modular units skids to their exact location for interconnection to each other.
Applied Controls Engineering (ACE), Eaton and Rockwell Automation teamed with Pennoni and DuPont Electrical Engineers to design and fabricate pre-engineered and pre-fabricated electrical control rooms which house the many electrical drive units and controls required to operate the cooling tower fans, pumps and numerous control devices. Like the equipment skids, these preassembled units were lowered into place in the field and electrically interconnected to the site power distribution system and cooling tower structure. Pre-installed instrumentation and wiring were then connected to the plant's central control room which utilizes a Rockwell Contrologix platform. Energy Transfer Solutions, representatives for Evapco Cooling towers, had an integral team role in coordinating the design of the condenser water system's field equipment and components with the design and fabrication of the Evapco 10,000-ton tower, which was completely fabricated in one of their local factories. The large tower sections were then shipped to the M Davis fabrication facility where they were integrated into the modular skid units.
SOCIAL, ECONOMIC AND SUSTAINABLE DESIGN CONDITIONS
The social and economic aspects of this design have made a very positive impact to the client's employees and surrounding neighbors. The design eliminated the need to lease and operate expensive temporary cooling equipment which would have been required to maintain site business operations. This ultimately resulted in very large cost avoidance to the client. By using the modular skid design approach, the entire structure was constructed in a remote location, thereby eliminating on-site construction noise and disruptions to both the site occupants and the close-by surrounding neighbors. The new cooling tower was designed with high energy efficiency and low noise producing components. The tower uses (4)-400 hp condenser water pumps and has a total of (16) fans, each of which is outfitted with a 40 hp motor and low noise emitting shrouds. The high efficiency motors each coupled with its own dedicated variable speed drive unit (VSD) allows for very low energy consumption. The tower is segmented into four independent cells and is controlled via a Rockwell Contrologix platform. The control programming provides system operators with the capability to select from a variety of operating schemes that provide for optimum energy efficient operation during varying outdoor weather conditions.
PROJECT COMPLEXITY AND COMPLETION
The project's September 1, 2017 to April 1, 2018 construction timeline was governed by the site's critical business need for refrigeration capacity. The Experimental Station is a key research and development facility that has a high dependence on site chilled water capacity. The new cooling tower supports approximately 40% of the site's total refrigeration capacity which is used in a variety of specialty HVAC and cooling applications for its many laboratories and facilities.