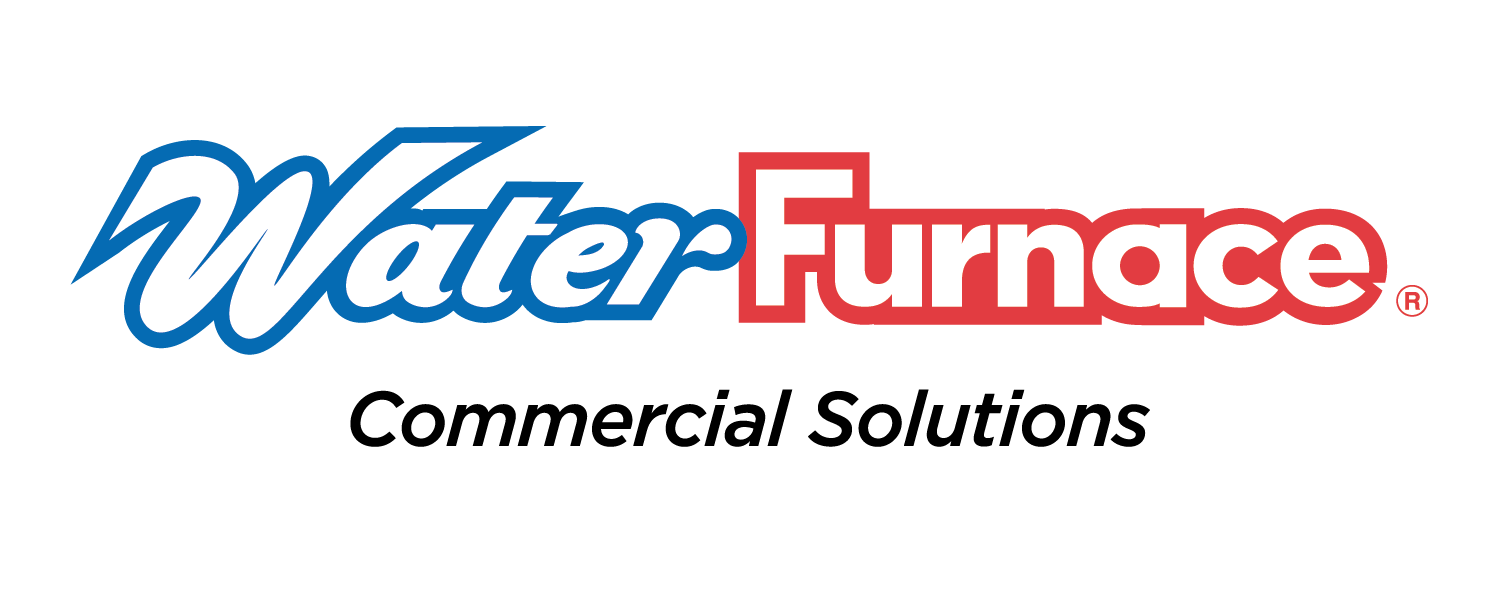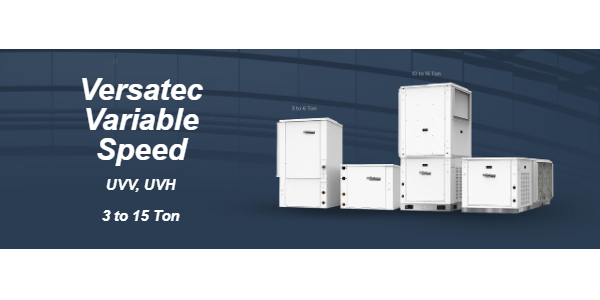 Remember when Water Source Heat Pumps were the system of choice?? Why did that end? It ended because a 2 ton or 3 ton heat pump with constant speed compressors could not control humidity. Building owners and occupants became frustrated and abandoned the WSHP. Now with VFD WSHP's you get your cake and can eat it too! You have low first cost, high efficiency and humidity control in a system that is easy to maintain and control.
Versatec Variable Speed
Utilizes advanced variable speed technology to deliver industry-leading efficiencies and capacity control.
Variable Capacity for Ultimate Efficiency

Variable capacity compressors are featured in the Versatec Variable Speed to offer the absolute best in efficiency and performance. Each model has a 25-100% capacity range or 4:1 turn down with load matching. Variable Speed systems provide high efficiency for maximizing LEED points.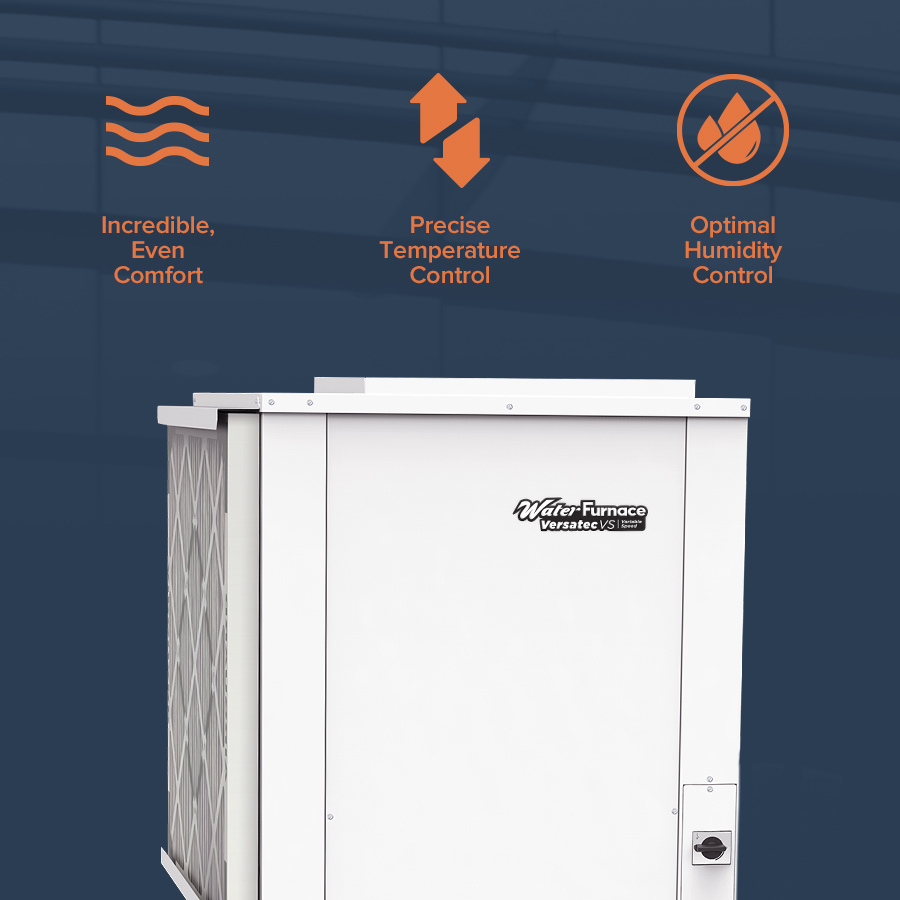 Optimum Performance at all Conditions
By utilizing variable capacity compression and balanced port bidirectional electronic expansion valves, the Versatec Variable Speed provides the ultimate in temperature control and active dehumidification. Since the system varies itself, performance, comfort, temperature, and humidity are all controlled and at optimal levels.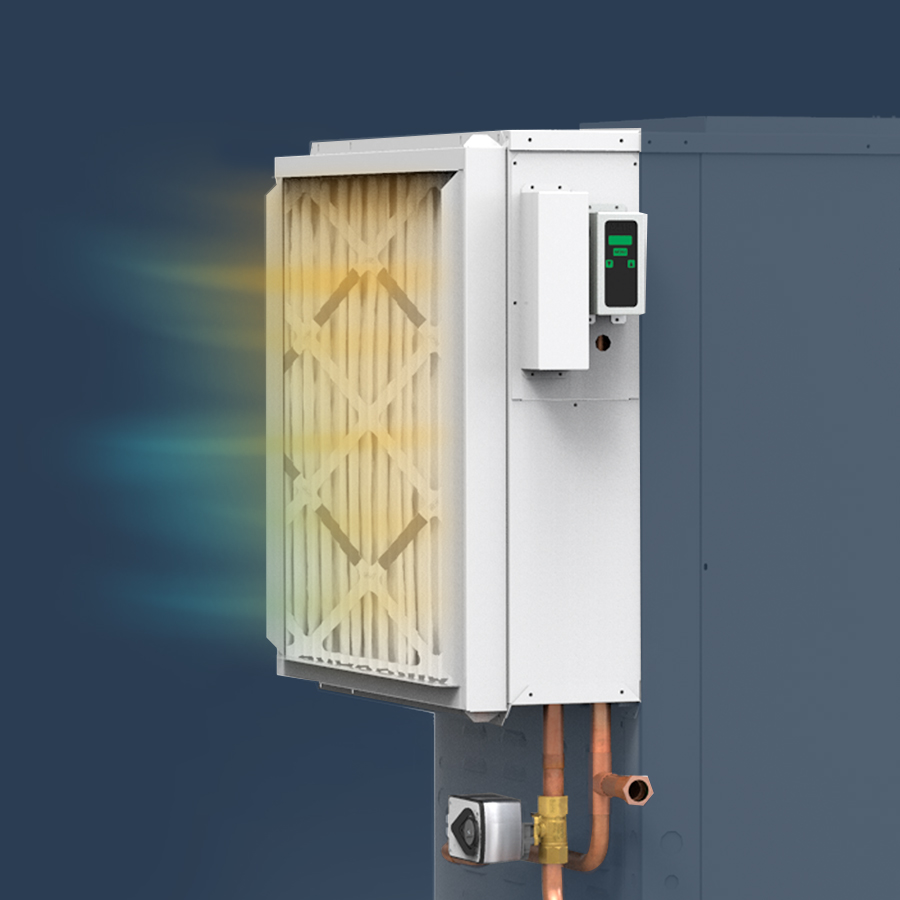 Flexible Factory-Installed Options

We offer many convenient factory-installed options including a water side economizer that provides free cooling when the building conditions are correct. Other options are internally mounted secondary drain connections as well as internal water valves and/or flow regulators for variable speed pumping systems.
No doubt we are all still adjusting to this new world we live in. We have always had your best interests in mind. We know employers, building owners, and engineers are looking for something highly-efficient with features that can adjust to the staffing changes and improve indoor air quality. Water Furnace's Versatec Variable Speed units give you all that and more!
The Optimal Solution for a Changing World
The workplace is evolving. Spaces that used to be at full-capacity are now much less dense, with some employees working from home or alternating shifts. Traditional HVAC systems have trouble accommodating these types of load variations created by staffing changes. But Versatec Variable Speed units are designed for such situations. They continually adjust to deliver the air flow and temperature desired, depending on occupancy. That means environments can be cooled down or warmed up faster than if the unit just operated at one speed. It also results in much greater efficiency. Versatec Variable Speed units are available in 3-15 tons in six different sizes.
Reliability is Key
Long component life and reliability is vital in commercial applications. That's why we feature all-aluminum rifled tube-and-fin air coils as well as corrosion-proof composite or stainless steel drain pans to provide the building a long lifetime of reliable system operation.
Aurora Controls for Flexibility and Monitoring
Energy, refrigerant, and performance monitoring are featured in the Versatec Variable Speed products to provide insight into all aspects of system operation. Aurora allows connections with 4-wire thermostats while the UPC DDC allow for building automation using N2, BACnet, or LonWorks
Unique Variable Speed Fan Benefits
Water Furnace's dedicated 460-volt 5-Speed ECM doesn't require the use of a neutral, which reduces labor costs in retrofit applications and is unique to the industry. The Versatec Variable Speed features variable speed fan options to allow for low energy consumption, enhanced air delivery, and precise temperature control.
Learn More
Key Features and Benefits
BIPOLAR IONIZATION OPTION

Improves Indoor Air Quality by releasing electrically-charged particles into the air. The ions interact with what is already present in the air—from viruses and bacteria to allergens and odors—destroying them or making them easy to remove. No chemicals are used, and no harmful byproducts are created in the process.
INCREASED STATIC PRESSURE AND FILTRATION

Variable Speed Integrated ECM Plenum fans provide increased static pressure and filtration. Whether your building is at full staff or just a small number of employees, the Variable Speed fan motor will adjust the air flow and temperature based on your occupancy requirements.
ENERGY SAVINGS

When compared to single or dual capacity units, the Variable Speed units significantly reduce the number of Watts need for heating and cooling. Depending on your usage profile and $/kWh, typical energy savings can range from $376 – 565 a year on a 3 ton unit.
VARIABLE CAPACITY COMPRESSOR

With a wide capacity range, the compressors will ramp up or down to meet the occupancy loads of the building.
SINGLE ZONE VAV

Provides ability to modulate both compressor and fan to maintain supply air temperature at a desired set point.
MULTI ZONE VAV

Modulating compressor meets indoor air temperature by providing precise leaving air temperature for a large space serviced by one unit
VAV for Zoned Conditioning
Our leaving air temperature control with factory-provided static pressure sensor yields true VAV operation. That is crucial when you have a large, overall space that is served by one system but can be broken down into several, smaller zones.
• Allows for lower price per ton of large units while controlling the temperature of smaller zones
• Offers flexibility to operate heat pumps from standalone communicating sensors or from network variable
Read More
Follow Energy Transfer Solutions on LinkedIn for the latest news!
Company Address
1220 Ward Avenue, Suite 300 West Chester, PA 19380
610-444-0333
www.etshvac.com