SiteBilt®

Air Enterprises has been performing on-site assembly of custom air handling units for more than 40 years, and we leverage that experience into every project.
Factory Engineered Quality
Air Enterprises' SiteBilt AHUs are designed and manufactured with the same high quality as our factory-built units. They are custom engineered to meet all your criteria for air quality...current and future loads, energy cost management, and long-term reliability with superior ROI.

SiteBilt components are color-coded, labeled, and packed based on assembly sequence for streamlined installation with minimal downtime and field labor.
Air Enterprises has built SiteBilt units as small as 100CFM and as large as 300,000CFM
Owner Benefits:

Full In House Engineers
Regional Representation for Fast Service
Lowest Total Cost
Engineer Benefits:
Superior Product Features
Energy Recovery Options
Direct Communication with Project Teams
Contractor Benefits:
Installation Training at the Factory
Pre-Build Meetings
Step by Step Assembly Instructions
Itemized Packing Lists
Installation Supervision
On-Site Advisory Service: A factory-trained, OSHA 30 field experienced advisor will be onsite to be fully available for the entire assembly process from beginning to end.

Field Testing: The assembly advisors will test the units for casing leakage and deflection. Air Enterprises will provide the required blank off plates for the leakage tests.

Leakage Test Guarantee: Air Enterprises guarantees the casing and base pan leakage will not exceed ½% when tested at 1.5 times the operating pressure. The casing deflection will be tested for specification compliance at the same time as the leakage test.
The Old Way. And the "hidden" costs that come back to haunt you
Take a good look at a 15-year old air handling unit that was purchased and installed based on lowest first cost. The payback has been a host of high costs not considered in the original price.
Frequent and rising maintenance costs
Operating inefficiencies driving up energy costs
Poor IAQ (indoor air quality) escalating risks of Sick Building Syndrome, Legionella, legal liabilities, and loss of accreditations or validations
Inability to handle expanding loads
The New Way. Custom solutions designed for speedy, simple installation, bulletproof operation, and savings you can take to the bank!
Sitebilt delivers all the value you expect from your air handling investment, including:
Single-Source Responsibility - Engineering, Manufacturing, On-site Installation Supervision
Minimal Downtime
No Modification to Existing Building
Industry-Leading Quality, Reliability, and Scalability
40 Year Track Record of Installations - with NO FAILURES
Bottom Line: Lowest Total Cost Quality Solutions
Air-Handling Unit Panel Construction
Panel design and fabrication are one of the fundamental advantages of Air Enterprises air-handling units. The Air Enterprises panels are designed to provide integral strength and minimum air leakage. The advantage is control over the quality in every sense of what is expected in an air handling unit. Let's examine differences!
The Air Enterprise panel system:
All panels are framed with welded extruded aluminum 2.5-inch mullions to very tight tolerances.
The aluminum panel skins are glued to each side of the mullions and support ribs to give the panel its strength. This design encapsulates the insulation and provides an airtight panel.
The structural panels are fastened together with joining or support mullions. The joint is double sealed with butyl caulking. The fasteners are blind-end pop rivets within the mullion cavity. The joint cavity is foam-filled to provide added support and enhance the sealing of the panel joint.
The support mullions are spaced to provide the desired strength to the unit. The support mullions provide a means to attach components and flashing without disturbing the panel's airtight integrity.
Air Enterprises' true thermal break design features panels such that there is not a through metal path between the interior and exterior surface of the casing at all panel frames, joining mullions, or corners.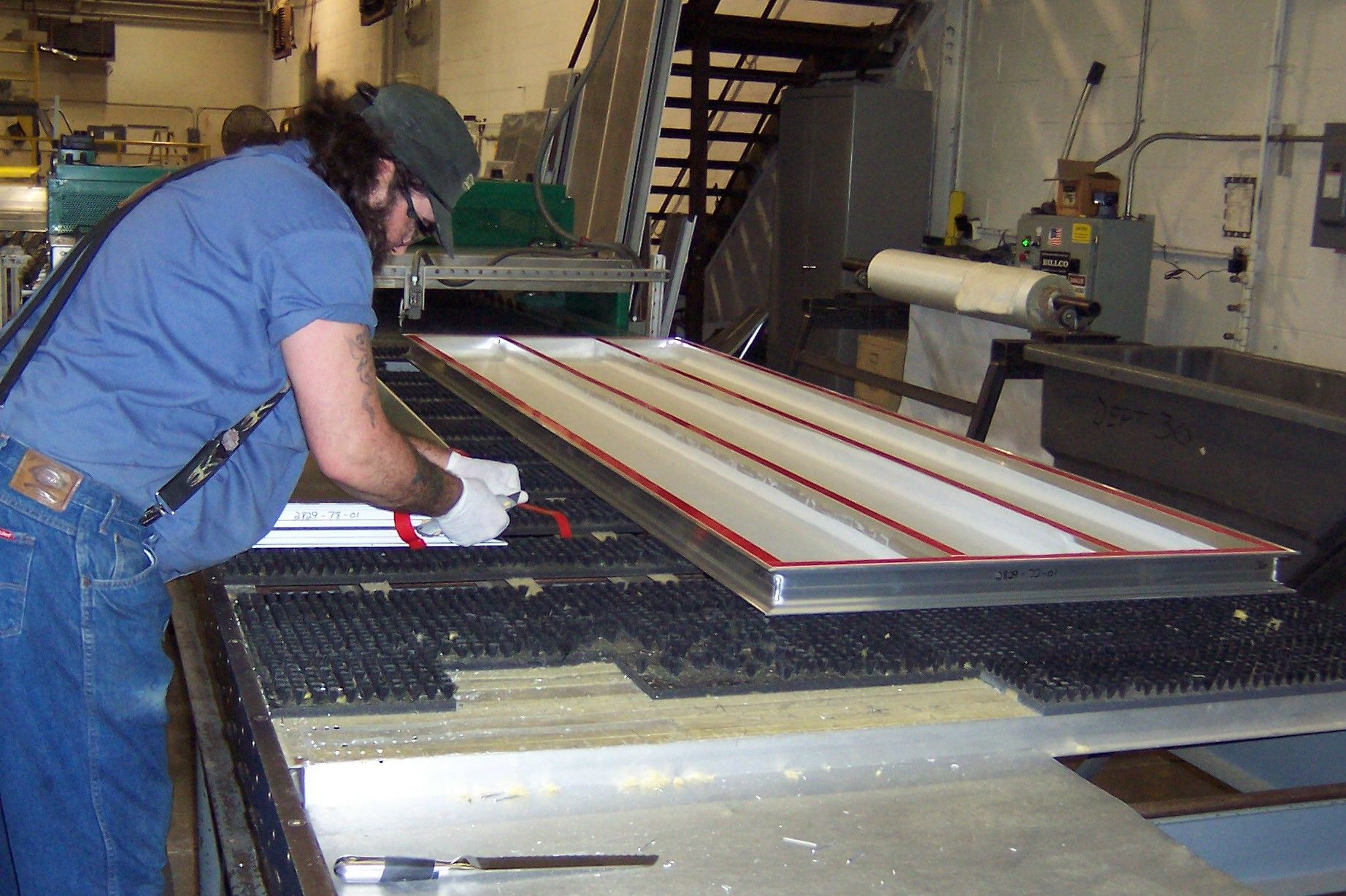 Panel support ribs and "red" Epoxy tape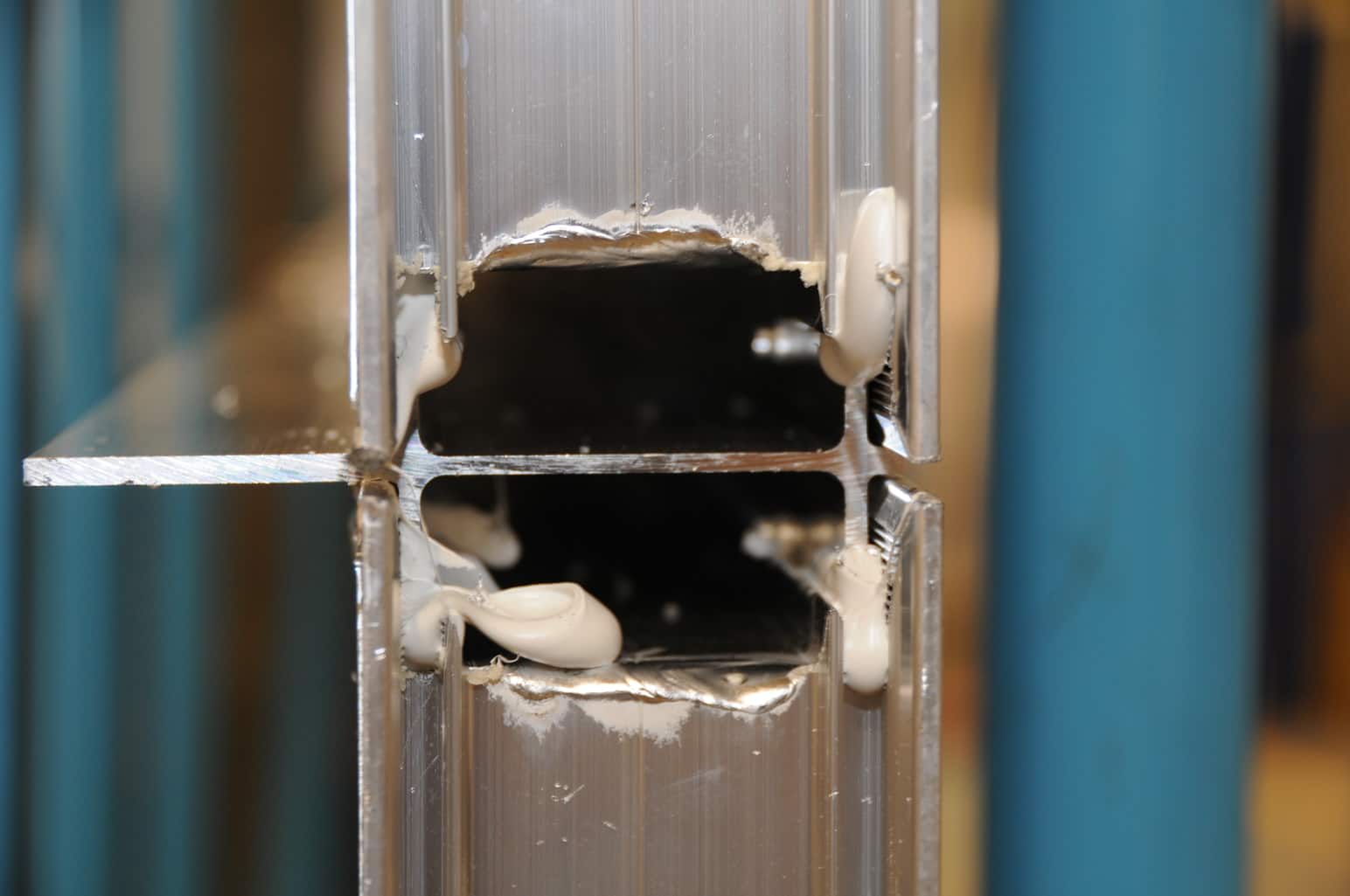 Panel joint with support mullion. Voids are foamed full after assembly.
Air Enterprises doors and removable panels
The access doors and removal panels are fabricated with the same airtight materials and in the same manner as the unit panels.
The door and removal panels are furnished with double mechanical and adhesive fastened seals. The seals are placed in an extruded aluminum mullion, beveled at a 45-degree angle to minimize distortion and maximize non-shearing compression resulting in a long-lasting airtight seal.
Heavy-duty door hardware and hinges assure consistent airtight integrity.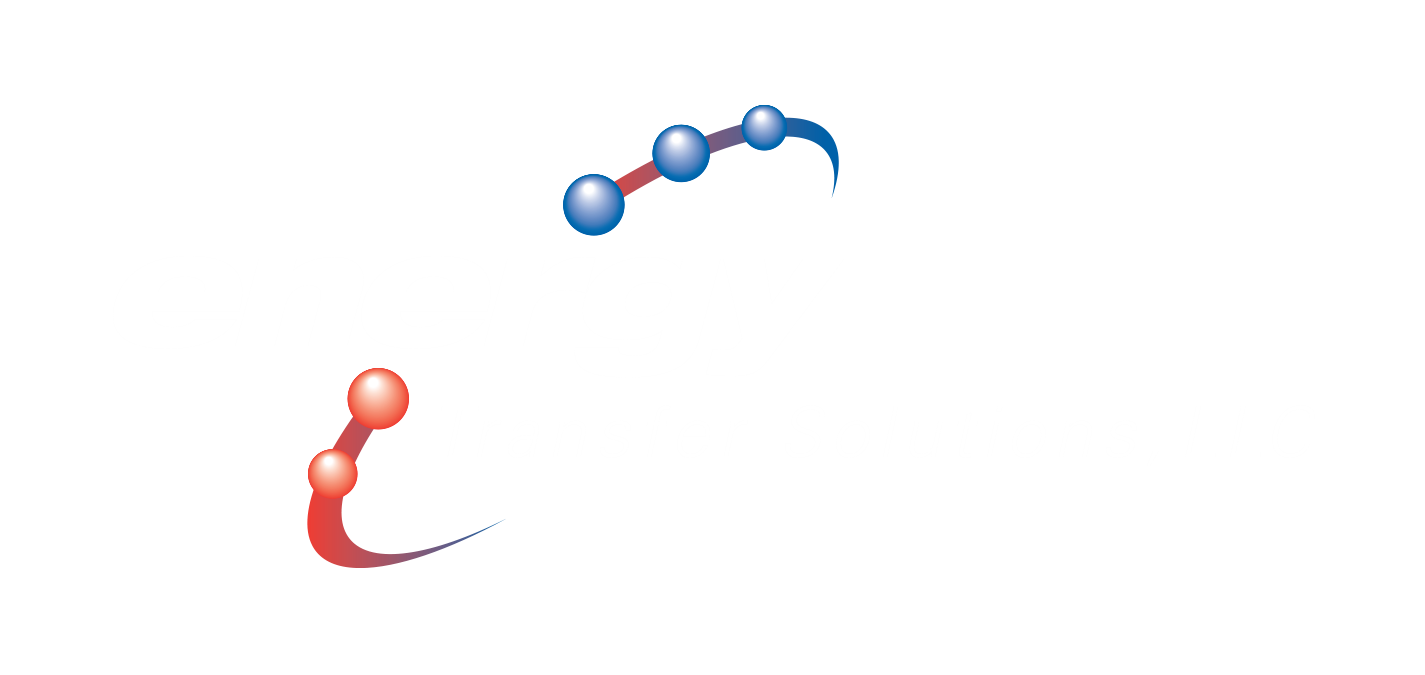 1220 Ward Ave Suite 300
West Chester, PA 19380
610-444-0333