| | |
| --- | --- |
| | The Performance of a VRF system with the convenience of a Vertical PTAC |
SPXC-Series Cold Climate Single Packaged Heat Pumps (SPHP)
Ice Air Single Package Vertical Air Conditioner and Heat Pumps (SPAC/SPHP) provide reliable performance, high-efficiency operation and allow ultimate design flexibility. These All-In-One air conditioning (Package Units) are convenient for applications where every inch of space counts.
Designed to condition multiple room, the Ice Air Conditioners and Heat Pump SPAC family are unique air-to-air units that work on an exterior wall, providing concealed, quiet, cost effective, efficient cooling and heating.
SPAC/SPHP units are high efficency - 11 EER performance to meet the newest energy codes.
SPAC-VF/SPHP-VF units offer superior efficiency with a variable speed inverter compressor.
Electronically Commutated Motors also included.
With electric heat and outside air options, Ice Air's SPACs, SPHPs, and -VF variations are the right solutions for any new construction or replacement project.
| | |
| --- | --- |
| | The performance of a VRF system with the convenience of a PTAC |
RSXC-Series Cold Climate Packaged Terminal Heat Pump (PTHP)
Ice Air's breakthrough cold climate technology is a paradigm shift. It allows PTHPs to efficiently provide space heating down to -5°F and below. And our advanced Variable Refrigerant Flow (VRF) technology ensures that your unit is pinpointing the exact amount of heating or cooling required for the desired room conditions. Efficient, sustainable, heat pumps designed for cold climates are finally a reality.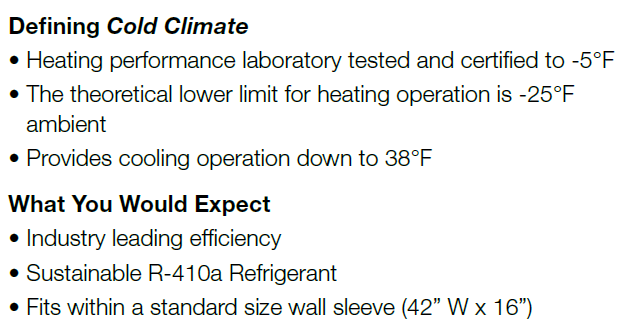 Innovation. Increased efficiency. Market responsiveness.
Ice Air's product lines and advanced green features are continually evolving to meet changing market demands. Advanced features aid in energy efficiency and seamless operation, and are designed and built to meet complex specifcations and provide users with ultimate comfort and ease of use.
Ice Air brand PTAC products provide our customers with high-quality units that are reliable, delivering comfort that lasts. In fact, the Ice Air brand Packaged Terminal Air Conditioners (PTACs) are part of the wide variety of Hi-Spec™ and ExactFit™ HVAC Packaged Terminal Air Conditioners that provide superior new construction heating and cooling systems or to replace old installations. Ice Air's PTACs are designed for ultra-high efficiency and comply with LEED® criteria in a durable, user-friendly package. New construction units feature EERs to 12.0, as well as whisper-quiet sound levels, commercial grade construction and balanced air flow. Ice Air offers a full line ofExactFit™ replacement units, which provide a simplified replacement solution for nearly every major manufacturer.
Models include: HiSpec™ units for new construction and full line ofExactFit™ replacement units.